Go Girl is a great opportunity for girls to move beyond some of the barriers to participating in physical activity
What is Go Girl?
A one day get active workshop for pre-teen and teenaged girls. The goal of this event is to encourage and support teenaged girls in choosing an active, healthy lifestyle. This is a one day experience in which teenaged girls are invited to see-and-try a variety of physical activities and sports and access resources on how to continue participating in these activities. They also have the opportunity to participate in sessions and information on nutrition, body image and wellness issues.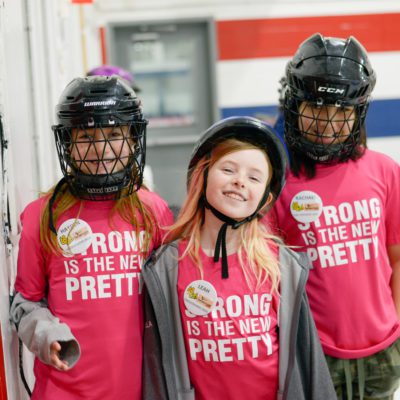 Why Go Girl?
If a girl does not play sports by the age of ten, there is only a 10% chance they will be physically active as an adult.
41% of girls don't participate in sports.
For young females, participating in sport brings positive physical, psychological and social benefits.
when girls move into adolescence their participation in sports drops significantly compared to that of their male counterparts.
Girls are particularly prone to sedentary behaviour during puberty, when their self image and confidence levels are challenged. In fact, 62 percent of girls are inactive compared to 54 percent of boys. (Canadian Pediatric Society - Environics Poll-April 2002).
The Go Girl Program has made an impact in the lives of thousands of girls in the province of Alberta. Click below to hear the impact.
Promote and support healthy, active lifestyles for teen girls in the province of Alberta
Provide communities with the support and resources to host their own Go Girl events
Encourage recipient communities to establish a local network and programs to ensure ongoing support of teen girls' physical activity following a Go Girl event
Objectives
Provide girls with a low cost, community based event in a supervised recreational setting
Provide opportunities for girls to actively engage in a variety of indoor and outdoor physical activities of choice, including both individual and team sports
Provide participants with essential information to pursue activities of their choice
Meet needs of girls of different ability/disability levels, ages and cultural backgrounds
Ensure a fun and inviting atmosphere along with opportunities for girls to socialize and meet new people.
Expected Outcomes
As a result of attending Go Girl events, the teens will have:
Experienced a range of physical activity adventures
Received contact information on how to further pursue these activities in their communities
Received information dealing with nutrition and wellness issues
Provided input on physical activity preferences to be shared with community programmers and facility operators
Met other teens and gained new friendships